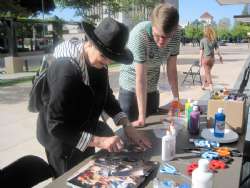 Gluck Fellows Program of the Arts
Photo Gallery
University of California, Riverside
Gluck Fellows Program of the Arts

Gluck Fellows provide free performances and workshops to people of all ages in the Inland Empire, including the communities of Riverside, Moreno Valley and Jurupa. Outreach activities take place at schools, community centers including libraries, senior centers, and downtown Riverside museums. Outreach efforts are organized into three categories: Traveling Performance Ensembles, which include the traveling Children's Theatre and music ensembles; Individual Fellow Classroom Workshops, where Fellows develop a hands-on curriculum related to their areas of specialization, but appropriate for the grade level of the schools; and UCR Campus Open and Invitational Events, including the Gluck Day of the Arts and Gluck Summer Camps. Gluck Fellows also offer family learning activities at UCR's ARTSblock in downtown Riverside on Family Funday on First Sunday, and First Thursday ARTSwalk.

One of our outreach projects is MoveMore, a ten-week program of dance activities for students designed to take a positive approach to the childhood obesity crisis. Movement is offered as more than a way to lose weight. Fellows direct dance and movement classes that build confidence through engaging activities that transmit knowledge and acceptance of the body. The program is designed to take advantage of the way artistic practice involves all aspects of the person regardless of body type. Music and dance forms relate to students, as well as the desire to coordinate actions and exercise imaginations as a way to express themselves. Building community, as opposed to competition, is a key guiding principle of the project.

Participants receive powerful and memorable classroom visits to give a taste of the University as well as direct exposure to visual arts, art history, music, and writing experiences that they would not otherwise have. Visits to the UCR campus give school children the opportunity to 'feel at home' on campus, and inspire them to consider pursuing degrees in the arts.

They myriad of arts programming the Gluck Fellows Program has brought to the Riverside Community for more than 15 years is driven by a core belief that open access to the arts is one of the fundamental components of healthy communities.
Read more about the Gluck Fellow Program of the Arts.