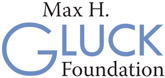 Usage of this Web site constitutes acceptance of all Terms of Use.
Terms of Use subject to change without notice.
Copyright
All site design, text, graphics, content, the selection and placement of these, and all art and images on the web site are ALL RIGHTS RESERVED. Any use of materials on this web site other than viewing them on the site itself, including reproduction (whether by downloading, printing, or another method), modification, distribution, or republication, without the prior written permission of Max H. Gluck Foundation, is strictly prohibited.
All photographs and other copyrightable materials on this website have been provided by grantee sponsors and are displayed with their permission. No re-use or republication of this material in any form is permitted without the express written approval of the grantee sponsor.
User Information
As a user of this web site, you acknowledge that you may provide information such as your contact information or payment information, and you hereby authorize Max H. Gluck Foundation and its affiliates or representatives to use such information in connection with any online or offline offering or any electronic mail offering directed to you. Any information that Max H. Gluck Foundation collects about you will be used to provide you with more information which may be of particular interest to you or to someone who may be interested in the materials on this site. By using this web site, you consent to the collection and use of this information by Max H. Gluck Foundation.
Disclaimer
MAX H. GLUCK FOUNDATION IS PROVIDING THIS SITE AND ITS CONTENTS ON AN "AS IS" BASIS AND MAKES NO REPRESENTATIONS OR WARRANTIES OF ANY KIND WITH RESPECT TO THIS SITE OR ITS CONTENTS. MAX H. GLUCK FOUNDATION DISCLAIMS ALL SUCH REPRESENTATIONS AND WARRANTIES, WHETHER EXPRESS OR IMPLIED, INCLUDING, BUT NOT LIMITED TO, WARRANTIES OF MERCHANTABILITY AND FITNESS FOR A PARTICULAR PURPOSE, OR PRICING, WHICH MAY CHANGE WITHOUT NOTICE. IN ADDITION, MAX H. GLUCK FOUNDATION DOES NOT REPRESENT OR WARRANT THAT THE INFORMATION ACCESSIBLE VIA THIS SITE IS ACCURATE, COMPLETE OR CURRENT.
MAX H. GLUCK FOUNDATION MAKES NO ENDORSEMENTS, SPONSORSHIPS OR RECOMMENDATIONS OF ANY KIND WITH RESPECT TO ENTITIES LISTED HEREIN OR TO ENTITIES HYPER-LINKED TO FROM THIS SITE.
Terms
Web site content is subject to change without notice.
No officers, employees, agents, third-party content providers, sponsors, contractors, licensers, or other representatives, shall be liable for damages arising out of or in connection with the use of this site. This is a comprehensive limitation of liability and under no circumstances shall Max H. Gluck Foundation or any party involved in creating, producing, maintaining or distributing the site, be liable for any compensatory, direct, indirect, incidental, special, or consequential damages, that result from the use of or inability to use site, including, but not limited to, reliance by a user on any information obtained from GluckFoundation.org that result from loss of data, income or profit, loss of or damage to property, injury to person, claims of third parties, mistakes, omissions, interruptions, deletion of files or email, errors, defects, viruses, delays in operation or transmission or any failure of performance, whether or not resulting from acts of God, communications failure, theft, destruction, or unauthorized access to GluckFoundation.org database(s), records, programs or services. Each user of this site hereby acknowledges that this paragraph shall apply to all content, merchandise, and services available at GluckFoundation.org. If and to the extent any state does not permit the exclusion or limitation of liability for consequential or incidental damages, Max H. Gluck Foundation's liability, in such state, shall be limited to the fullest extent permitted by law.
GluckFoundation.org is created and controlled by Max H. Gluck Foundation, in the United States of America. The laws of the State of California will govern all terms, conditions and disclaimers on this site, without giving effect to any principles of conflicts of laws.
BY ENTERING AND USING THIS SITE YOU ARE AFFIRMATIVELY STATING THAT YOU HAVE READ AND UNDERSTAND THE RULES SET FORTH HEREIN AND ARE AFFIRMATIVELY INDICATING THAT YOU AGREE TO BE BOUND BY THESE RULES.